COLT Space Saver Feed Lines (CSSU)
COLT's Space Saver Feed Lines offer the same performance using less space. Light gauge or heavy gauge.
Coil Feed Lines With Advanced Controls And Space Saving Designs.
COLT Automation is a pioneer in Space saver Coil Feed Line design offering a variety of different styles of Space Saver feed lines for heavier gauge, light gauge, mild steel, or AHSS. The introduction of the powered Torque Drive Uncoiler (2012) allows fully synchronized fixability to feed directly into the Feeder/Straightener of the back loop.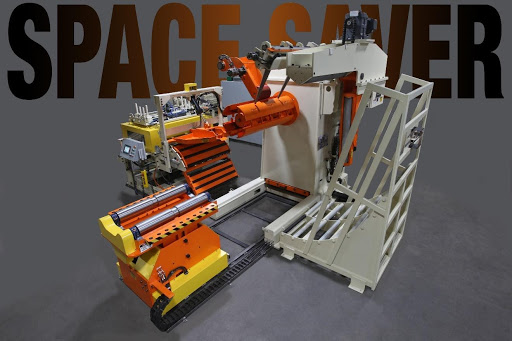 No Space – No problem! COLT has a CSSU for the Job.
• Advanced controls with visual HMI display
• Manual or fully-automated features with recipe options
• Only 20ft / 6100mm to 25ft / 7620mm required
• Full hydraulic piloting
• Counterbalanced entry & exit pinch rolls
• Torque Drive for ultimate flexibility
• Lighter Gauge material powers off top of coil, directly into Feeder/Straightener
• Heavier material threads via pinch rolls into back loop
• Optional Straightener roll configurations 5,6,7,8,9,11 
• Microfeed Adjustment on the fly
• Laser loop sensor synchronizes throughput speed
COLT Automation can provide many optional features to fully automate the entire feed process.
Space Saver Feed Line Examples
Medium-Duty Back Loop Feed Line Into Feeder/Straightener
Featuring a powered uncoiler, back loop adjustable threading arm, hydraulic retaining arms and a traveling uncoiler with fixed coil car into a combination feeder/straightener. Advanced controls & features utilizing customer selected Schneider HMI, & Siemens PLC.