Colt Zig Zag Feeders Utilize A Shuttling Motion Of The Coil Stock Over A Single Station Blanking Die, Thus Saving The Cost Of Double Die Operations For The Same Output.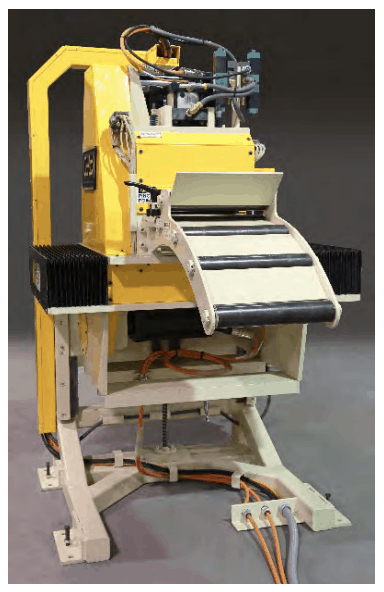 • Decrease waste by over 20%
• Feeder optimizes pattern to provide highest yield
• Auto repositioning and optimal nesting
• Production parameter storage for job recall & setup
• Simple, easy to understand setup & operation
• True 2 axis Zig Zag
• Round and non-round parts
• X & Y axis calculations within built-in software
• Simultaneous X & Y movement for high speed applications
• X & Y axis can run independent for odd shape parts 
•"On the fly" adjustment of web width (while feeder is in operation)
• Built-in industrial modem for remote diagnosis, programming and service
• Portable production recipe storage – never lose a program
Utilize a shuttling motion of the coil stock over a single station blanking die thus saving the cost of double die operations for the same output. The machine illustrated has a zig zag motion of +/- 5.0″ from the machine centre line, providing a maximum lateral shuttle of 10.0″
The scrap illustrations show the material savings utilizing the Zig Zag Feeder and double blanking compared with single blanking and straight feeding.

Single strip blanking 25% scrap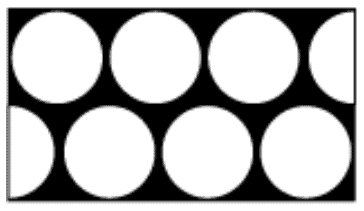 Double strip blanking 19% scrap
When Mike Neumann was searching the industry for a new Zig Zag Servo Roll Feeder, at first he was skeptical of Colt Automation. "I heard of the COLT name but never tried any of Colt's equipment. I started to investigate and found that Colt Automation has been in business for over 50 years and Colt has a great reputation. Colt claimed they could provide a Zig Zag feeder with a lot of really great features that we didn't even know existed. All American Washer Werks is very busy and produces millions of washers/stamping per month. We count on Colt to keep up with our production schedule. Downtime is non-existent with Colt."